Providing unparalleled expertise for exterior façade restoration and weatherproofing – from foundation to rooftop
Since 1949, general contractors, property managers, engineers and architects have relied on Culbertson Restoration for all facets of restoration and repair services necessary to protect the life, value and integrity of the buildings under their care.
CRL has provided an extensive list of preservation services to exterior façades – including masonry restoration, repointing and sealant renewal – to historic buildings, churches, universities, commercial and residential buildings, hospitals and condominiums.
Most importantly, we maintain our proficiency in these restoration services by employing individuals who are experts in their field. In addition, we provide our workforce with continuous training to ensure our customers receive the quality workmanship we promise them.
Masonry Restoration
Repointing
Sealants
Concrete Restoration
Concrete exteriors, parking garages and balconies require constant maintenance, structural repair and protective coatings to maintain their integrity. Read more…
Façade Cleaning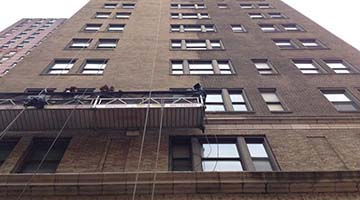 Important both on exteriors and interiors, façade cleaning enhances appearance while reducing deterioration. Read more…
Synthetic Stucco Maintenance
Culbertson Restoration can assist with synthetic stucco maintenance. Synthetic stucco provides a protective acrylic or elastomeric finish. Read more…